Hobart HS6-1 Heavy Duty Manual Slicer w/ 13" Removable Knife, Tool & Meat Grip Assembly
The Hobart HS6-1 slicer has a one-piece burnished aluminum base to prevent food particles from getting trapped in crevices and growing bacteria. Made of stainless steel with Stellite alloy, the 13-inch CleanCut™ knife stays sharper and last longer than carbon-coated stainless steel knives. To support thorough cleaning, the knife can be removed with a removal tool, while a Poly V belt drives the knife and runs at 430 rpm for optimal performance. A heavy-gauge, stainless steel knife cover protects the blade and stays on magnetically, and the gauge plate stays closed when the sharpener is in use, providing zero knife exposure.
The Hobart HS6-1 slicer has a top-mounted Borazon stone sharpener that is removable, dishwasher safe, and sharpens the blade in 15 seconds. A removable ring guard cover is made of Zytel™ plastic, collecting food debris around the knife to facilitate cleaning. Double-action indexing cam provides two revolutions: one for shaving, chipping and thin slicing and the other for thick slicing. For smooth sliding, the electroless nickel-plated slide rod is lubricated with an oil wick, and the machined grooves on the gauge plate and knife cover reduce drag. To simplify cleaning, the removable carriage system tilts.
Product Details
Burnished, one-piece aluminum base prevents particles from getting trapped in crevices and growing bacteria
13-in. CleanCut knife is made of stainless steel with Stellite alloy to stay sharper and last longer than carbon-coated stainless steel knives
Knife removal tool enables thorough cleaning
Poly V belt drives the knife and runs at 430 rpm for top performance
Removable ring guard cover is made of Zytel plastic, collecting food debris around the knife to facilitate cleaning
Gauge plate stays closed when sharpener is used, ensuring no knife exposure
Heavy-gauge stainless steel knife cover protects blade and stays on magnetically
Top-mounted, removable Borazon stone sharpener sharpens the blade in 15 sec. and is dishwasher safe.
No-volt release forces the slicer to restart if power fails or the slicer is unplugged, preventing injuries
Machined grooves on gauge plate and knife cover reduce drag for smooth slicing motion
Tilting, removable carriage system simplifies cleaning
Carriage accommodates food as large as 53⁄4-in. x 103⁄4-in. or 71⁄2-in. dia.
Electroless nickel-plated slide rod is lubricated with an oil wick for a smooth slide
Double-action indexing cam provides two revolutions: one for shaving, chipping, and thin slicing and another for thick slicing
Gauge plate maintains position for concise slicing
Spring kickstand lifts machine for cleaning underneath
Comfortable handle reduces fatigue
Rear-mounted meat grip arm opens in front of product tray for unblocked loading
Removable meat grip for cleaning
cETLus listed; NSF certified
Dimensions & Utilities
245⁄8

 

in. W x 305⁄16

 

in. D x 251⁄2

 

in. H
5.4 A,

 

1⁄2

 

HP
120 V/60 Hz/1 ph, 6-ft. cord with plug
Product Features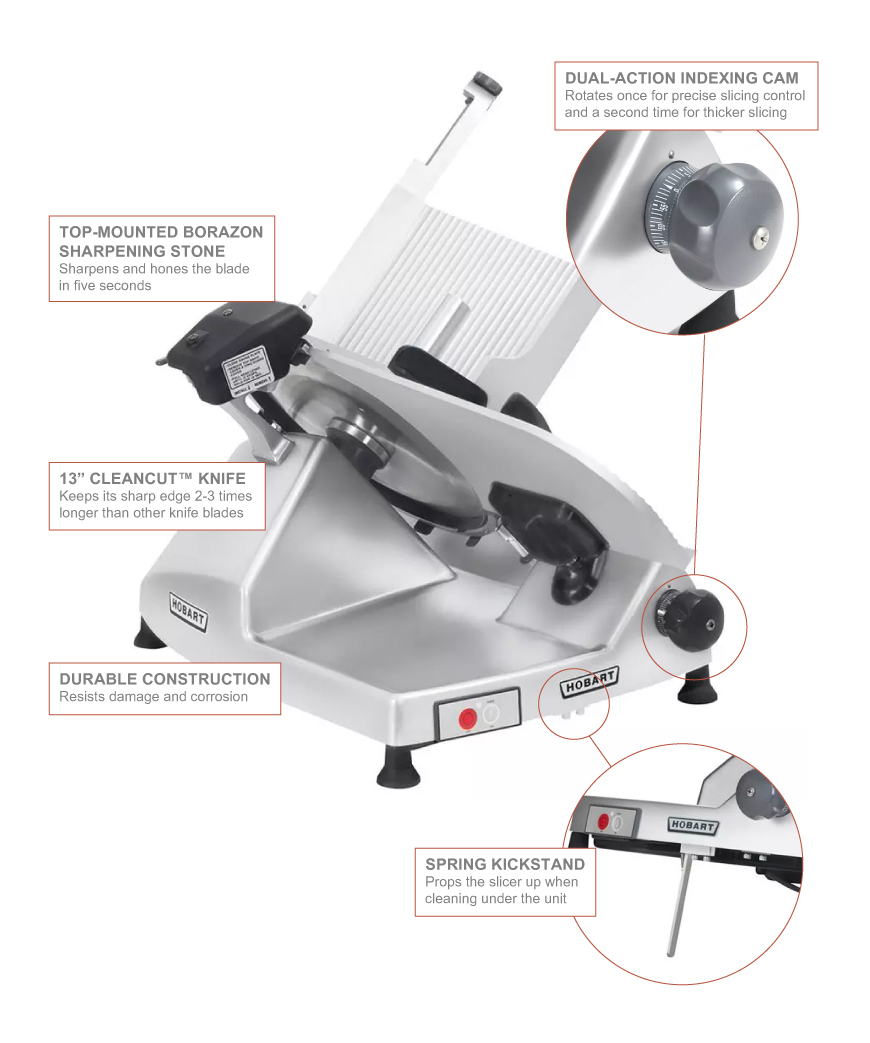 Heavy Duty Meat Slicer, manual, 13" CleanCut™ removable knife with removal tool, burnished finish, removable meat grip assembly, removable ring guard cover, single action top mounted sharpener with Borazon™ stones, cleaning kickstand, 1/2 hp motor, 5.4amps, 120v/60hz/1-ph, NSF cETLus