Pitco 40S Frialator Gas Fryer - (1) 45 lb Vat, Natural Gas
The Pitco 40S gas fryer has an oil capacity of 40 to 45 pounds and can fry 72 pounds of fries per hour. This model has a frying area that measures 14 inches by 14 inches, providing ample space for operators to use the two included nickel-plated fry baskets. Designed with a deep cold zone ideal for frying heavily breaded foods, this commercial fryer can keep up with a medium to heavy demand for chicken fingers, onion rings, mozzarella sticks, and more.
This Pitco 40S commercial fryer offers a temperature range of 200 to 400 degrees Fahrenheit, and its millivolt controls maintain more accurate temperatures than electromechanical thermostats. The heating tubes contain high-temperature baffles for lasting durability and combustion efficiency. This fryer's standing pilot light ensures the flame is ready on demand, but if the pilot goes out, the gas flow stops automatically. For safety, the gas flow also stops if the temperature exceeds 450 degrees Fahrenheit, protecting the unit from permanent damage.
The fryer's welded stainless steel tank has been pressure blasted to achieve a smooth, easy-to-clean surface. The cabinet front and door are constructed of stainless steel, and the galvanized steel sides and back can be quickly wiped down. With the help of the front-located 11⁄4-inch drain, the tank can be emptied, and the included drain extension helps operators empty the oil into an appropriate container for disposal. A clean-out rod is also included to help ensure no sediment is left behind after cleaning.
Product Details
40- to 45-lb. oil capacity
Three heat tubes provide combustion efficiency
Millivolt gas control valve provides temperature accuracy
Temperature range: 200-400 degrees F
High-limit valve shuts gas off if temperature exceeds 450 degrees F
Standing pilot light ensures a flame is available
Gas only flows to main burner if pilot flame is established
6-in. adjustable legs
2 fry baskets
Includes drain extension and clean-out rod
105,000 BTU
Requires installation under a hood
For installation at 2,000-ft. elevation or higher, call customer care at

(855) 979-6747

CSA Gas-fired listed; NSF certified
Product Features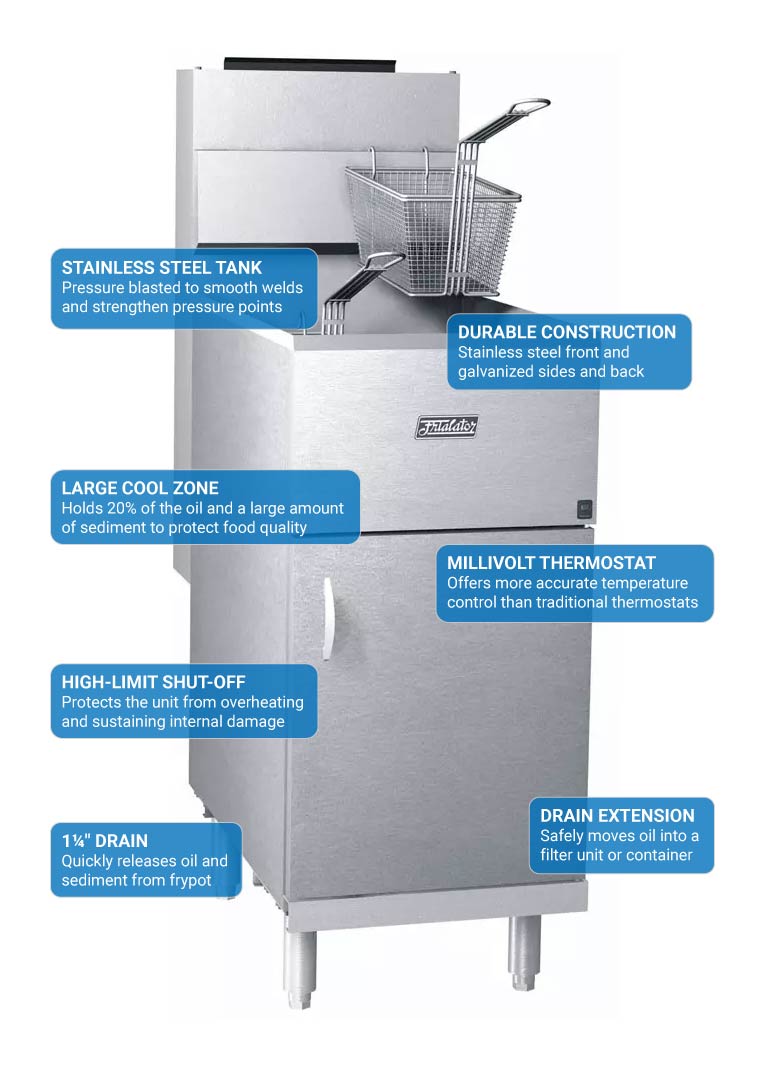 Durable Construction
Tank is welded stainless steel
Pressure-blasted tank surface is smooth and cleans up quickly
Cabinet front and door are stainless steel
Sides and back are galvanized steel
Stainless steel alloy heat baffles
Front 11⁄4-in. NPT drain facilitates draining
Heat deflector built into rear of unit
Dimensions & Utilities
Tank: 14 in. L x 14 in. W x 23⁄4 in. D
Overall: 151⁄8 in. W x 309⁄32 in. D x 46 in. H
Heats with natural gas
Rear gas supply connection is 3⁄4-in. NPT
Economy Tube-Fired Natural Gas fryer, 40-45 pound oil capacity, floor model, stainless steel cabinet front, door, and tank, millivolt thermostat maintains temperature between 200°F (93°C) and 400°F (204°C), integrated gas control valve, 6" adjustable steel legs, 105,000 BTU/hr, NSF, NG