Pitco SG14-S Gas Fryer - (1) 50 lb Vat, Natural Gas
The Pitco SG14-S Solstice™ gas fryer cooks using 40 to 50 pounds of oil. Constructed of stainless steel, the fryer's tank can withstand heavy use in a busy kitchen. The unit's cabinet is built with a stainless steel front, door, and sides, which can all be quickly wiped clean at the end of the day. For durability, the cabinet door is mounted on a 3⁄16-inch hinge that prevents sagging.
This Pitco SG14-S commercial fryer is equipped with efficient Solstice burner technology. Inside the heat exchange tubes, stainless steel baffles maximize the transfer of heat from the burner to the oil. This means the fryer has quick heat-up and recovery times. This system also helps reduce how much heat escapes through the fryer's flue, so the kitchen temperatures stay comfortable. To preserve the oil, a millivolt control system keeps it at the correct temperature level, and if the temperature gets too hot, the burners shut off to prevent irreversible damage to the components.
Product Details
Part of the Solstice series
40- to 50-lb. oil capacity
Steel tank provides durability and corrosion resistance
Sturdy cabinet has stainless steel front, door, and sides
Solstice burner technology provides efficient heating without blowers
Millivolt technology maintains accurate oil temperatures
Shut-off feature stops gas flow if pilot goes out, preventing dangerous levels of gas buildup in the kitchen
High-limit safety switch monitors temperature for unsafe levels
Heavy-duty,

 

3⁄16-in. bottom hinge keeps door correctly positioned
11⁄4-in. full-port drain valve quickly lets out oil
Manual gas shut-off valve provides access for service calls
Integrated flue deflector directs excess heat towards hood
9-in. adjustable legs provide space for cleaning underneath
Basket hanger can be removed without tools for thorough cleaning
Clean-out rod helps users remove all sediment from drain line
Drain extension safely directs oil into a filter system or appropriate disposal container
110,000 BTU
Requires installation under a hood
CE approved; CSA Gas-fired listed; NSF certified
Dimensions & Utilities
Frying area: 14 in. L x 14 in. W
Overall: 155⁄8

 

in. W x 3811⁄32

 

in. D x 5413⁄32

 

in. H
Uses natural gas
3⁄4-in. gas connection
Product Features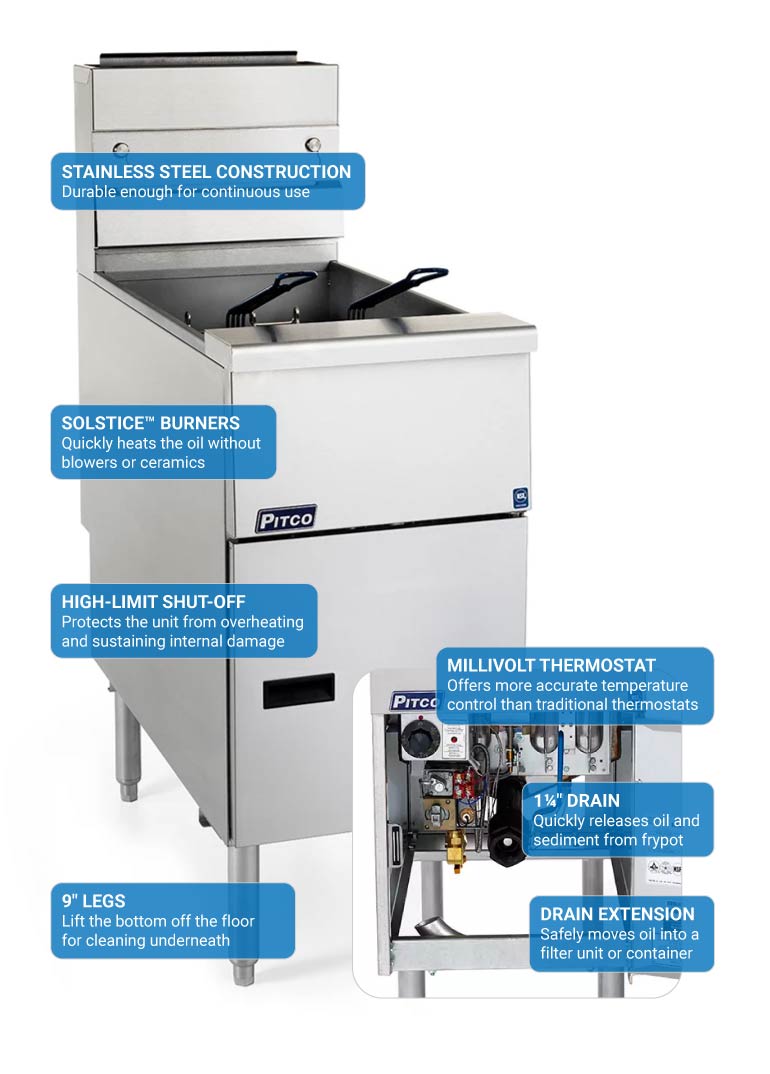 Solstice™ Fryer, natural gas, floor model, full frypot, 40-50 lb. oil capacity, millivolt control ONLY, stainless steel tank, front, door & sides, 110,000 BTU, NSF, CE, CSA Flame, CSA Star, AuGA